The Royal Opera House: Faust (LIVE)
Director: ROH

Cast: NA
Runtime: 210mins + adverts and trailers.

Disillusioned with life, the aged philosopher Faust calls upon Satan to help him.
Trailer
Showtimes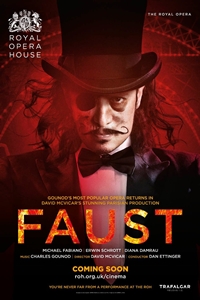 Tue 30th Apr:
18:45
&nbsp
&nbsp

All tickets £15

Booking Details
To book tickets online please click on the showtime you would like to book for. Tickets can be booked up to 90 minutes before each showing. Pullman seats cannot be booked online and must be booked at the cinema ticket office.